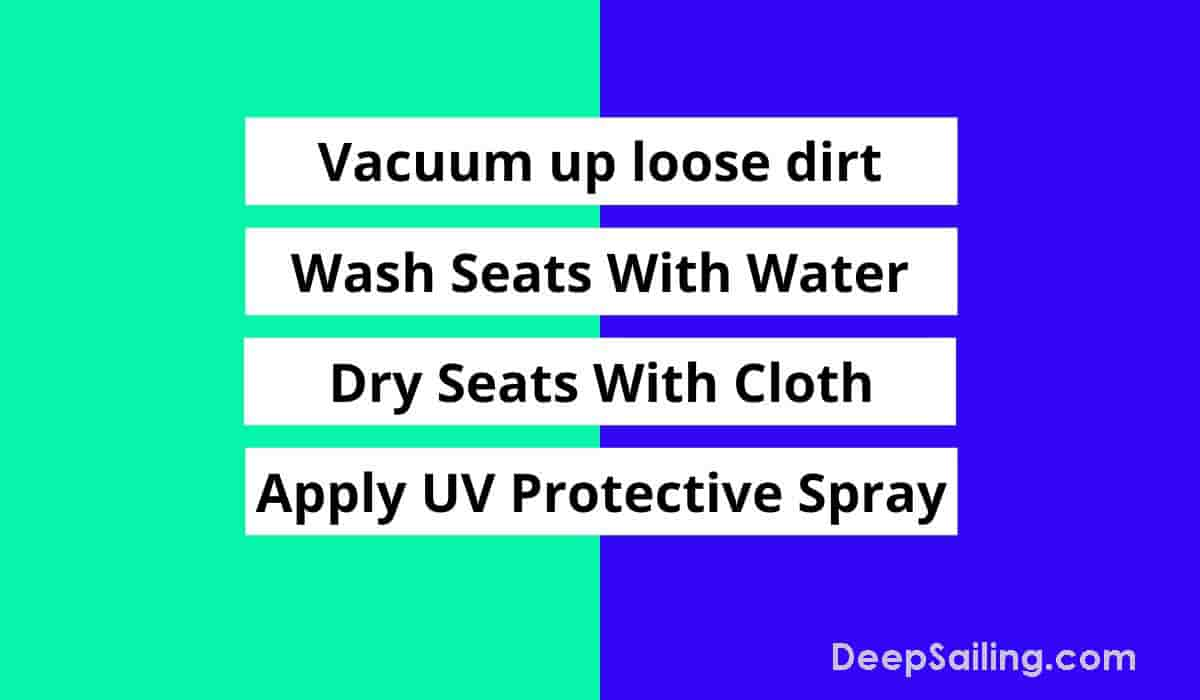 Cleaning vinyl boat seats from dirt and stains can make a huge difference to the overall look and feel of your vessel.
So how do you get the upholstery washed and prevent it from looking dull?
We'll show you some simple tips and some inexpensive boat seat cleaner spray and cleaning products to assist you with those routine cleanings.
Vinyl boat seats are most commonly found on sailboats, pontoons, yachts, speedboats and motorboats.
To clean vinyl boat seats, follow the steps:
Marine grade vinyl cleaner will help protect against damaging the seats when cleaning them.
Following these seat cleaning steps will remove dirt, mold, mildew and stains.
It will also protect the seats from future sun damage and water damage.

We include products we think are useful for our readers. If you buy through links on this page, we may earn a small commission.
Step 1: Use a vacuum to remove trapped dirt in the seats

The first step in cleaning the boat seats is to get a vacuum. The vacuum will be used to get all the loose dirt and dust that is buried in the seat.
Use a vacuum nozzle that will fit in between the cracks/gaps in the seat so you can vacuum the hard-to-reach areas.
Using a vacuum will help:
Get rid of the larger dirt: Vacuuming the trapped dirt between the seats will help remove the excess and trickier dirt build-up.‍
Remove dirt you might not have seen: Vacuums can reach dirty spots you might not have been able to reach otherwise.
Vacuuming the seats should take no longer than 10 - 15 minutes depending on the number of seats.
Summary
Vacuuming the boat seats is an important first step in removing the unseen dirt build-up in the harder-to-reach areas.
Step 2: Wash the seats with warm water, soap and a sponge
Get a bucket of warm water, a sponge and some soap. Clean in sections to make it easier.
Wash the seats in steps:
Scrub the seats with warm water and soap: Use a sponge in a circular motion and wash the dirt away with soap and warm water
Apply marine grade spray to wet seats: A mildew and mold remover spray like 3M will help easily wipe way tougher stains and dirt
Let the spray set on the seats before wiping away with alcohol wipes: Follow the instructions of the spray and let it set on the seats before wiping away with alcohol wipes. This will remove deep stains
Wash remaining dirt with sponge: Gently wipe the remaining dirt with a sponge
Do not aggressively scrub seats. This will help avoid color fading or seat cracking.
Spraying the seats and wiping them with alcohol wipes will help easily remove deep stains from the vinyl boat seats.
Washing the seats should take between 10 - 15 minutes depending on the number of seats to clean.
Summary
Wash the boat seats with warm water, a sponge and marine grade mold remover in a circular motion to remove dirt. Wipe with alcohol wipes to remove deep stains.
Step 3: Dry Seats With Microfiber Cloth
After washing the seats, use a microfiber cloth to dry the wet areas.
Divide the seat into sections and rub a cloth or towel in a circular motion around the selected section until it is dry.
This will remove the final bits of dirt, dust, mildew, mold and stains.
Drying the wet seats with a microfiber cloth or towel will help prevent scratching the seat material when drying it.
Drying the boat seats with a towel or cloth should take approximately 10 to 20 minutes to complete depending on the number of seats to dry.
Summary
Use a microfiber cloth to dry seats. This will remove the final dirt that was hard to remove.
Step 4: Apply UV Protective Spray
A big problem with vinyl boat seats is their exposure to the sun when out on a boating trip.
This exposure causes the seats to crack and the color to fade.
To help solve this, get a UV Protective Spray and spray it onto the marine seats.
To apply the UV protective spray onto the boat seats:
Spray the UV spray one section at a time: Use a UV protective spray and spray it onto the boat seat in sections
Wipe it dry after it's sprayed on: Once it's sprayed on, let it set for 5 minutes and then wipe it dry by using a microfiber cloth and rubbing in a circular motion
This spray will help prevent color fading, aging and cracks from forming in the seats due to sun damage.
It will also add a matte finish to the seats and add a great shine.
Spraying UV protective spray onto the boat seats should take approximately 15 to 20 minutes to complete depending on the number of seats onboard.
Summary
Spray UV Protective spray onto the vinyl seats to prevent seat cracking, color fading and protect against the sun damage.
Products To Use When Cleaning Vinyl Boat Seats
When cleaning vinyl boat seats, there are a number of top boat cleaning supplies to use.
Vacuum
Bucket of warm water
Vinyl boat seat cleaner
Sponge
Microfiber cloth
Towel
These items are enough to have the vinyl seats looking clean and like new.
The best vinyl cleaners to use include Meguiar's Marine Vinyl Cleaner and Star Brite Ultimate Vinyl Cleaner.
Alternatively, you can make a homemade vinyl seat cleaner with household items.
This is just as effective at cleaning the vinyl seats.
Summary
Use a marine grade vinyl boat cleaner, a bucket of warm water and a sponge or cloth to clean vinyl boat seats.
Products To Avoid When Cleaning Boat Seats
When cleaning vinyl boat seats:
Do Not Use A Pressure Washer: There is too much pressure in a power washer. This will crack and damage the vinyl seats if used
Do Not Regularly Clean With Bleach: Using bleach once is fine but using it regularly will remove protective layers from the seats
Do Not Clean With Gasoline: Gasoline will cause the seats to smell and it's flammable
These should be avoided when cleaning boat seats.
Summary
Using a power washer and regular household cleaning products is not the best option when cleaning vinyl boat seats.
Alternative Boat Seat Cleaning Options
When looking to clean boat seats, there are other options available:
Hire an interior boat cleaning company: A boat cleaning company will come and clean the seats for you. This service costs $150 on average.
Hire a professional to clean the seats: Find a professional on thumbtack or Craigslist to wash and clean out the vinyl seats.
These options are best for those that want to outsource the cleaning work.
Summary
Hire a professional cleaning company or individual if you prefer to outsource the cleaning.
Ongoing Boat Seat Cleaning Maintenance
Periodic cleaning throughout a month of heavy use with lots of boating activities is a wise option to ensure superior cleaning, removal of water spots and removal of general stains.
Using alcohol wipes is a simple but effective way of cleaning the seats as part of ongoing maintenance.
If the seats have been damaged and cracked from excessive use and exposure to seawater and hot sun, a vinyl seat repair kit is an inexpensive solution.
You can restore faded vinyl boat seats with a vinyl paint restorer. This will ensure the seats look great on an ongoing basis.
Summary
During regular boat use, clean the seats at least once a month and use a protective spray for protection against sun.